ABOUT 
POWELL COUNTY HEALTH DEPARTMENT 
ABOUT
POWELL COUNTY HEALTH DEPARTMENT
The mission of the Powell County Health Department is to protect, preserve and promote the health, environment and well being of the citizens of Powell County. In order to accomplish this mission, it is necessary that we control communicable diseases, encourage healthy lifestyles, provide preventive screenings and reduce hazards in the environment. We should strive to reach these goals.
The Powell County Health Department does not discriminate on the basis of race, color, national origin, sex, religion, age or disability in employment or in the provision of services.
Powell County Health Department Achievements
Director Stacy Crase presented a Citation of Appreciation in recognition of vital public health assistance that she has provided to the citizens of Powell County during the recent outbreak of the deadly Coronavirus in Kentucky. This was presented by Representative David Hale.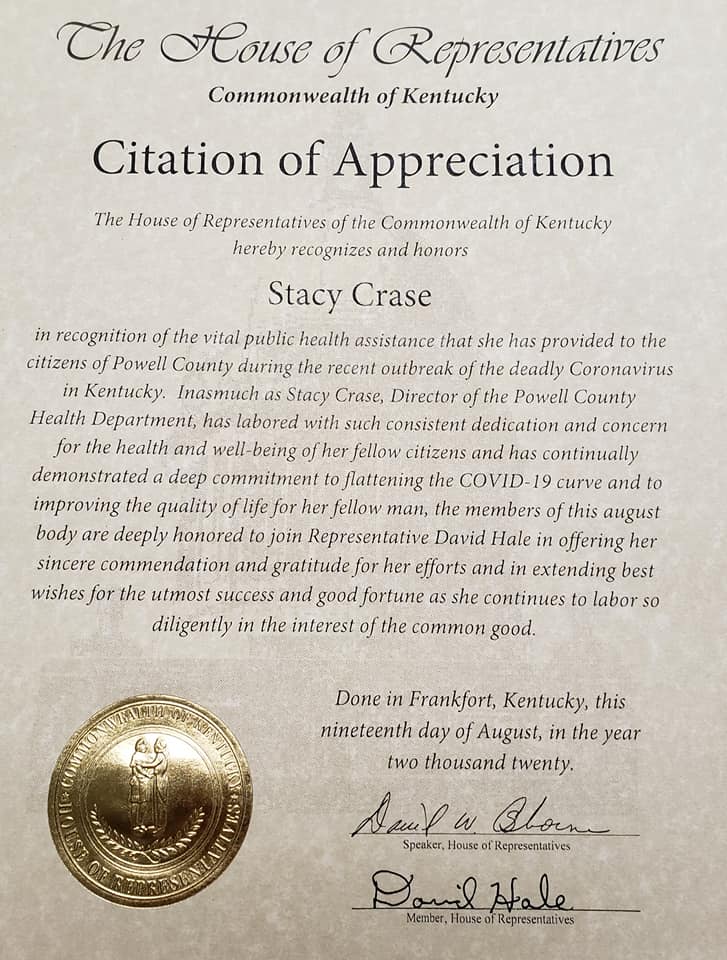 We would like to officially welcome Erin Teasley to our team as a contact tracer!
Erin joined us a couple of months ago as part of #TeamKentucky's efforts to expand contact tracing in the state. She has hit the ground running and does a fantastic job!
We are wearing blue today in honor of National Colon Cancer Awareness Month!
Did you know?
Early colon cancer may have no symptoms.

Colon cancer is mostly preventable.

Screening saves lives! Talk with your primary care provider for more information.
23 community partners met at the Powell County Emergency Operations Center
23 community partners met at the Powell County Emergency Operations Center on Monday(March 11, 2020) to discuss the novel coronavirus (COVID-19). The group received the latest updates from PCHD and Regional Epidemiologist, Quantez Crowe, from the KY Department of Public Health.