ABOUT 
POWELL COUNTY HEALTH DEPARTMENT 
ABOUT
POWELL COUNTY HEALTH DEPARTMENT
The mission of the Powell County Health Department is to protect, preserve and promote the health, environment, and well-being of the citizens of Powell County. In order to accomplish this mission, it is necessary that we control communicable diseases, encourage healthy lifestyles, provide preventive screenings, reduce hazards in the environment and provide health education to the community. We should strive to reach these goals.
The Powell County Health Department does not discriminate on the basis of race, color, national origin, sex, religion, age or disability in employment or in the provision of services.
Powell County Health Department Achievements
Director Stacy Crase presented a Citation of Appreciation in recognition of vital public health assistance that she has provided to the citizens of Powell County during the recent outbreak of the deadly Coronavirus in Kentucky. This was presented by Representative David Hale.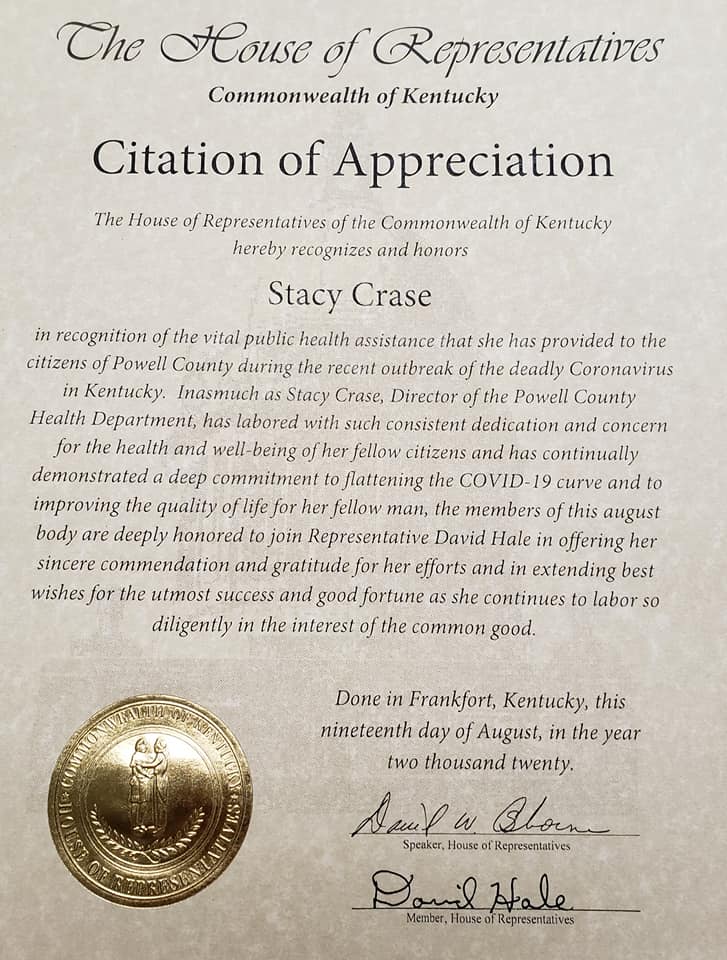 The Powell County Health Department is accepting applications for a full-time Public Health Nurse I.
Responsibilities for this position include but are not limited to; provides entry-level nursing functions and services to individuals and families under close supervision in a clinic or community setting, focusing on the prevention of illness, injury or disability, the promotion of health and maintenance of the health of populations. The nurse in this classification would receive job specific training in the requirements and scope of practice of the various assigned health department programs and services.
Special Requirements:
Must have RN license in Kentucky or compact state or provisional license in Kentucky, meeting all requirements of KRS 314.041.
Starting Salary: $20.30-25.24/hr negotiable with additional experience. Grade 17. Excellent benefits package and a schedule that fosters work-life balance.
Apply at https://KOG.CHFS.KY.GOV/HOME. Create a citizen account and search LHDCOS (search and apply). Completed application must be submitted by November 4, 2022. Transcripts must be uploaded before the close date of the advertisement if post-secondary education is required or may be substituted for experience. Transcripts must list the degree awarded. Qualified applicants/employees are subject to a pre-screening, selection for interview, and/or demonstration of skills testing. Employment may be contingent upon a successful drug screening and background check. Equal Opportunity Employer.